Hand decorated finest quality crystal and glassware
Our decoration techniques have been developed and refined over more than forty years and this allows us to offer a unique range of options for decoration of glass and crystal items.
All of our decoration styles are applied by hand rather than machine which means that we can offer small or no minimum order quantities.
To give you a flavour of some of the different options that are available, we have created a unique design shown below to demonstrate some of our basic techniques.
In addition to the techniques described below we also offer gilded decoration allowing us to apply precious metal to crystal and as a result our work is found in royal palaces and other prestigious locations.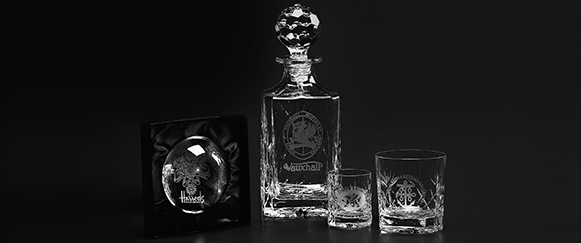 A mask is applied to the glass and sandblasted to create a permanent design on the item by removing a layer of glass through the mask. We have no minimum order quantity for sandblasting which is the most durable of decorations. There is an origination charge for new logos only and a small charge for typesetting inscriptions.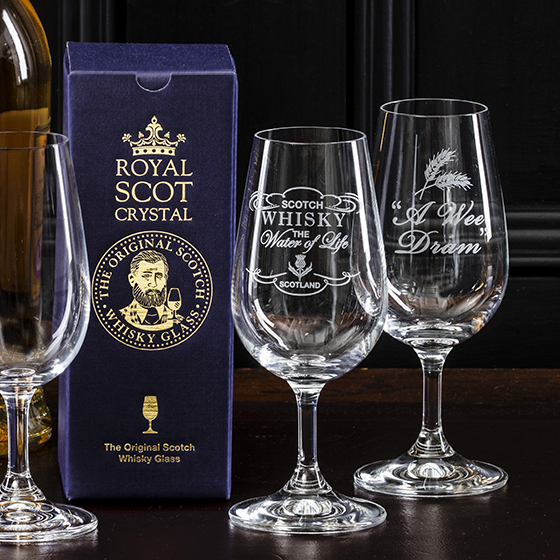 A single colour ceramic transfer is printed and creates an effect similar to sandblasting. The transfer is applied to the glass and kiln fired. This is a slightly cheaper option than sandblasting engraving however there is a minimum order quantity of 200 items. This method of decorating is not as permanent as sandblasting. This printed form of decoration can also be applied and fired in 22 carat gold.
Please enter your details below to receive our Newsletter